Be sure to visit
THE LAMB
if you like movie blogs! It's a great place to find some very talented bloggers, who chit-chat about all genres of film!
And hey - if you blog about movies, sign up to become a LAMB! It's a great tool for exposure, and an all round fun, interactive community of great peeps. And tell them
CinemaObsessed.com
sent you!
On another note, we officially have a functioning
Cin-Ob Button
that you can take and show off proudly on your blog! It will stay up for grabs on our left sidebar. Come on... you're a Cin-Ob Supreme and you know it. Go on... taaakke it!!!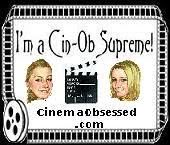 Copy and Paste Code
One last item on my pimpin-ourselves-out agenda... voting is in progress over at
20 Something Bloggers
for the next
Featured Blogger of the Month
... and we're hungry for it. Num num num!!! So if you're a member of this particular network, go log in and nominate us! What are you waiting for? I mean, pretty please with butter and dill pickle spice on top?
Have a great weekend, Cin-Obs!